If you are a person that likes to create fun challenges and games, your next trip to the putt-putt course can be improved with fun rules. There are some mini-golf games that you can play that create challenges and make family outings fun. The following miniature golf games and rules will help create a unique experience on every trip to the course:
1. Team Up and Handicap the Best Players
Sometimes, when we are playing a game of mini-golf or putt-putt, there are different ages and skill levels. This may mean that some of the more skilled players have an unfair advantage. Thus, you may want to give the more skilled players handicaps. Some fun handicaps to give the most skilled players in your group include:
Blindfolding skilled players
Make skilled players putt left-handed(right-handed if they are left-handed)
Skilled players must take their first shot with the hole to their back
The handicaps will make playing a game of miniature golf a lot more fun. This is great for playing with small children that may have a difficult time getting the ball in the hole under par.


2. Try Playing with a Different Style
There are different ways that you can hit the golf ball on a putt-putt course. Rather than using a traditional golf stance, try playing with a different style. Some of the different styles that you can use to hit the ball include such as holding the putter in a different manner (like a pool stick or using the narrow side)


3. Use Your Friends and Family as New Obstacles
Get all your friends and family involved by letting them be new obstacles on the course! Let them choose where to stand to block your ball, open new paths on the green, or use them to your advantage and knock in a hole in one-off of a foot!


4. Dice It Up with a Roll for Par Level
You can also make the game of miniature golf a dice game for holes that are easier; roll a set of dice to determine the par that the hole will be. For players in your group that may need a little help, you can let them roll the dice for par. The number of points on the dice can be how many strokes they can get for the hole to be considered a hole in one. If you are playing with players that play at an expert level, this will give them the handicap needed to make a game of miniature golf fun and fair.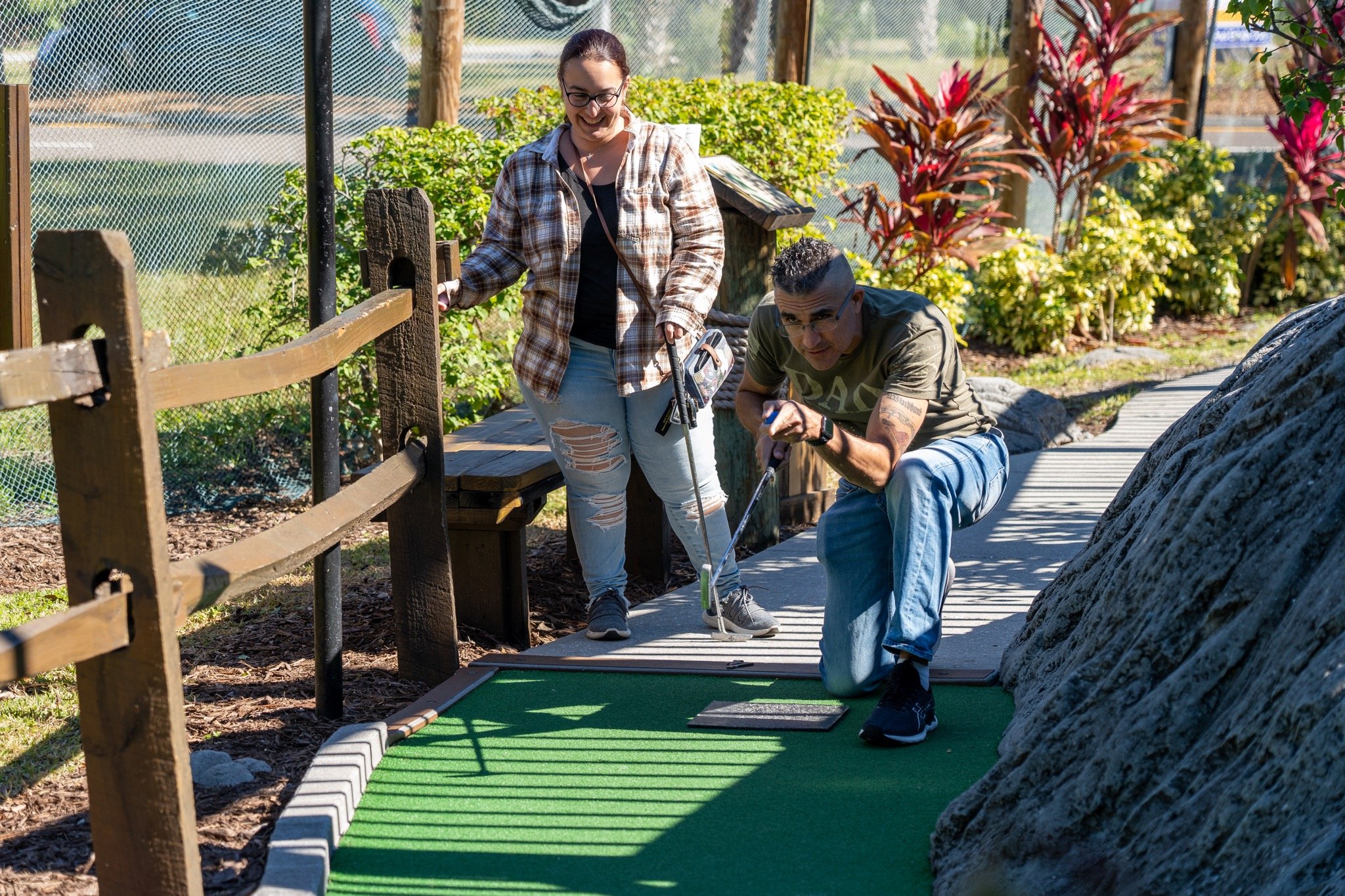 5. Try Different Scoring for Par on Holes
Usually, scoring on miniature golf is counted by how many shots it takes to get the ball in the hole. This is par, but if you want to change the way you play your miniature golf game, you may want to score things a little differently. Some of the ways you can change up the scoring for your mini-golf game include:
All or nothing with a hole-in-one game where only the hole-in-ones are scored
Hungry gator where everyone putts at the same time and the first ball in the hole scores
Crazy golf where the player that is closest without going in the hole scores
The different scoring for the holes of the miniature golf course will make your next round more challenging and exciting.
---
The trips to the mini-golf course will be more exciting and challenging with a few new rules and handicaps. Visit Smugglers Cove to get discounts and plan your next exciting miniature golf trip.