Are you looking to learn and enjoy how to play mini golf with your family? Let's take a look at some of the basic rules and how you can win in your next round!

Related Blog: Are You Playing Putt-Putt Or Mini Golf? Is There A Difference?


Mini Golf Rules
Like any game, mini golf has rules to be observed for you to enjoy. Some of them include:
Every player in the group takes their first shot before proceeding to take their second shot.
Mini golf is played in groups of fours or smaller as is regular golf. This is so all golf groups have fun playing. If your party is larger than 4, no worries, your groups will be right together throughout the entire course.
There are six shots per limit, per hole, so you have to move to the next hole once you get to six shots.
The ball nearest to the hole putts first.
When a ball gets into the water or goes off course, it has to be replaced where it went off with a one-stroke penalty.
The person with the least amount of strokes wins the game!


What to Know About Playing Mini Golf
Learning how to play mini golf is simple but becoming a pro takes effort. Here are some basics you need to know about mini golf:


Study the Hole
Each mini golf hole is unique. Therefore, you will have to analyze your hole's layout by studying all bumps, angles, and obstacles to determine your course of action.


Be Decisive on Your Putts
Learning to play mini golf is about getting a good score with the least number of strokes and having fun. You must hit the ball with a firm but smooth stroke to get a position that will get your ball into the hole. Players have to be aggressive and decisive when making short putt strokes, enabling them to hit the ball directly to the hole.


Utilize a Sense of Timing
This applies where a golf course has moving obstacles. You need to study the obstacle and utilize your sense of timing to hit the ball whenever there is an opening for it to go through to get near the hole.


Have Fun
The important part of learning to play mini golf is laughing at your bad shots, teasing your competitors, enjoying yourself, and promising to do better. Sometimes learning is a process, so make sure that you have fun while you play.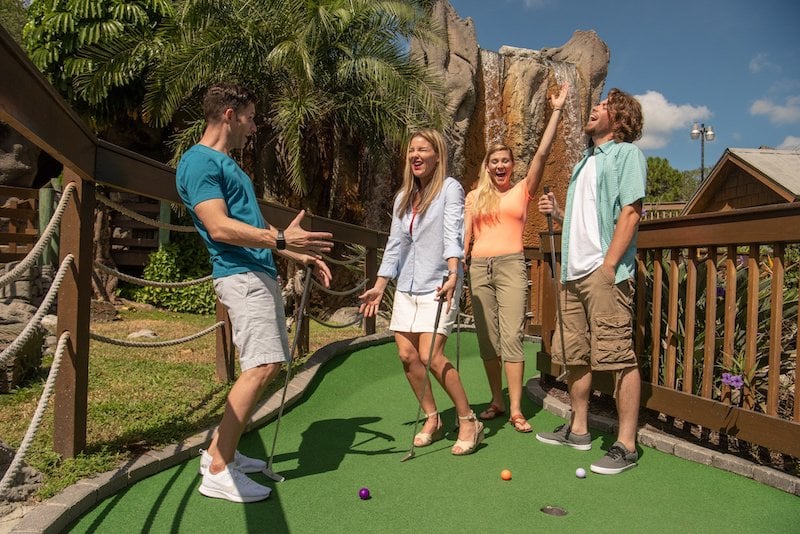 Mini Golf Games and Challenges
A mini golf game aims to complete all the holes and win. However, you can create additional challenges and games to have more fun and unique experiences when you visit Smugglers Cove. Some of the games and challenges you might make include:


Use Family and Friends as New Obstacles
Your friends and family can act as new obstacles on the course by letting them choose where to stand to block your ball. This makes the game more fun, as you will be forced to be creative to solve the challenge by opening a new path and knocking your ball into a hole.


Play with a Different Style
There are different ways and styles you can play golf on a course and still enjoy it. These styles include hitting the ball differently while holding the putter like a pool stick and using the narrow side.


Handicap the Best Players
Mini golf involves players of different ages and skills. Handicapping your most skilled players means they will have a lesser advantage, especially when playing with small kids, making the game highly enjoyable. Some fun handicaps to give the most skilled players in your group include:
Blindfolding skilled players
Make skilled players putt left-handed(right-handed if they are left-handed)
Skilled players must take their first shot with the hole to their back
---
When you are uncertain whether your family might enjoy mini golf, visit Smugglers Cove in any of our locations in Florida. We are open throughout the year, and you do not need reservations to play. Contact us today for inquiries.