Mini golf is a great way to spend time with friends and family while enjoying some friendly competition. It's no secret there are a lot of strategies that go into each hole, but are some holes more difficult than others? Let's take a look at the toughest mini golf holes at each of our Smugglers Cove locations and the trick to beating your teammates.
Related Blog: How To Play Mini Golf Like A Pro


Bradenton
With swerves to the left and right, Hole #12 is by far the most challenging hole at the Bradenton location. Featuring lush greenery and a trickling waterfall, players must determine the perfect amount of force to send their ball around both sharp turns. Walking up the steps leading to this hole golfers will notice that this area is a popular hangout for our skeleton crew who enjoy watching those up for the challenge. Anticipation builds for the moment a lucky golfer will conquer this tricky hole.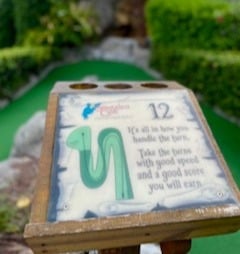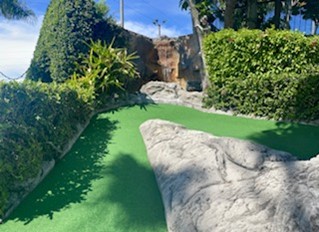 Sarasota
Test your skills on Hole #11 for your most daring experience at the Sarasota location. As you cross over a wooden bridge with a raging waterfall to the right, you will come upon the entrance to the mysterious cave. A tropical setting engulfs the surrounding rocks as you peer inside. A slight putt to the right will carry your ball around the large rock formation blocking the view of the hole. Pass further into the cave with caution, you may encounter a sleeping pirate. Legend has it that very cave was once a booming spot for gold mining.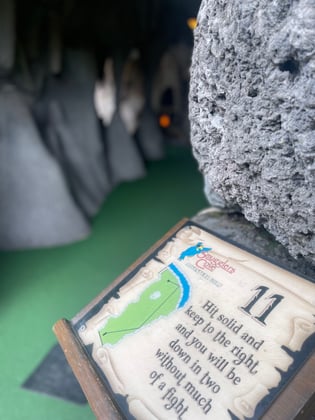 .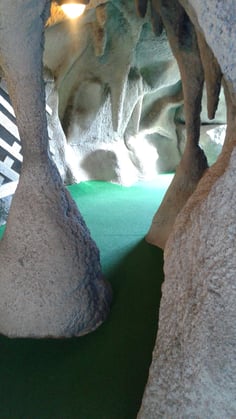 Indian Shores
Smugglers Cove Adventure Golf in Indian Shores, Florida has some of the most unique, challenging holes you'll ever find at a miniature golf course. This is very clear when you arrive at Hole #13 and hear the sound of the rushing waterfalls echoing throughout the cavern. Hole #13 forces the golfer to make a choice right away. Should you play it safe and putt to the left, settling for a possible par 3? Or should you go for the Hole-in-One and shoot straight across the raging waterfalls? Most folks opt for the treacherous route, straight through the waterfalls!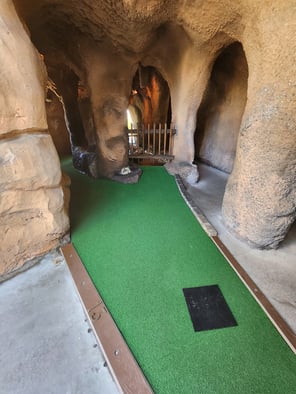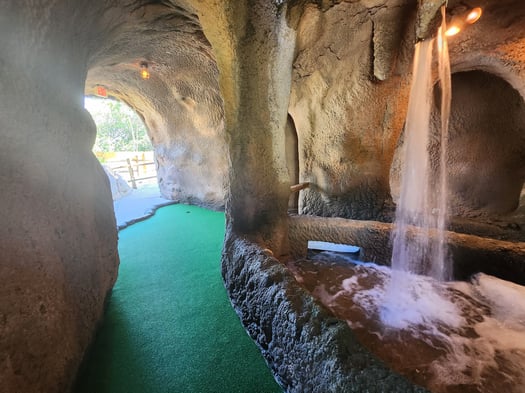 While golfing on this hole, you'll also encounter a pirate shipwreck if you look to your West, towards the Gulf Beaches. These shipwrecked pirates are having a jolly ole time on their abandoned island, realizing they won't be saved anytime soon! Best of luck getting a Hole-in-One on this hole... you'll need it!


Madeira Beach
Hole #1 at our Madeira Beach course is one of the most challenging yet popular holes at Smugglers Cove! It is located on Smuggler's Ole Pirate Ship. This hole looks simple at first glance until you realize the mast on the pirate ship completely blocks your shot. This forces golfers to make a bank shot off the bow sprit if they want any chance at making a hole-in-one. Golfers also enjoy discovering their official Pirate Name as this chart is posted inside the pirate ship. Hole #1 is surrounded by alligators to the south and a giant fountain to the north, giving golfers quite a distraction while attempting to shoot for that difficult Hole-in-One. Don't mind the pirates above, they're having a jolly ole time being shipwrecked at Smugglers Cove.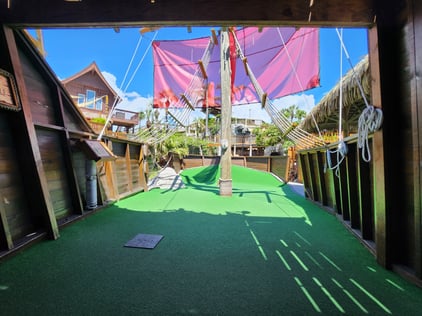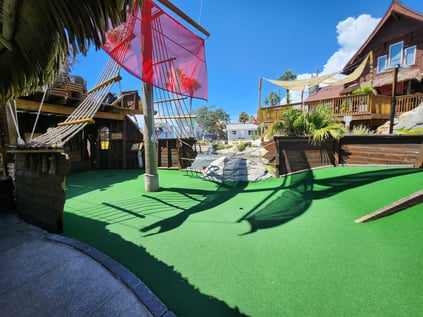 Fort Myers
Smugglers Cove Adventure Golf in Fort Myers has many adventurous holes. Hole #12, however, could very well top that list. Positioned at the highest elevation on the course, golfers can enjoy the amazing view this hole's tee-off area offers.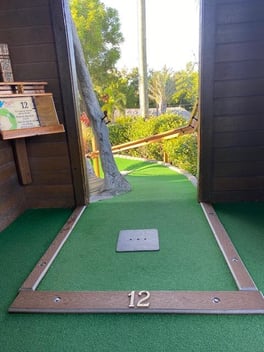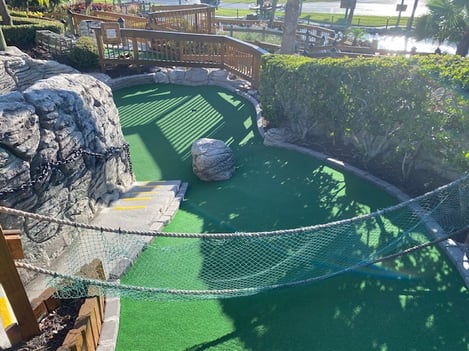 Set up as a long dogleg left down a steep hill, a blind tee shot challenges golfers to navigate their ball correctly to the lower level. Once there, you may be faced with a long second shot, so good luck on this steep curvy gem.
---
There's nowhere better to get in an adventure-filled round of mini golf, feed live alligators, and hang out with all your friends and family under the Sun than at Smugglers Cove. Find your nearest Smugglers Cove Adventure Golf location and plan your next exciting miniature golf trip!